"If you are lucky enough to have lived in Paris as a young man, then wherever you go for the rest of your life, it stays with you, for Paris is a moveable feast."
Indeed, I am very lucky. After mighty London, my next home is Paris now. To be very honest I wasn't very excited about it due to my previous experience. I visited paris back in 2010. As a poor student, I stayed in a smelly hostel in north, barely had any money to do fancy Paris stuff and get yelled at by Parisians. I hated every minute of that 4 days. So before moving here, I didn't have much expectations. I was thinking " I would probably focus on my studies" I couldn't have been more wrong…
One month in Paris and I am in love… Fashion, the most beautiful cafes, delicious cuisine, attention to detail, architecture, beautiful parks… and many other factors contributing to my love. Everyday I am learning something new and exciting but frankly there are some things i wish i have known before moving here.. and also some because they are complete nonsense 🙂
Here is my guide for moving to Paris !
ACCOMMODATION
This is a hard battle if you are on a budget. It is very hard to find decent and medium price place in center. Be very cautious about facebook groups, anything on craiglist and leboncoin. Usual trick people use is "I am outside of Paris, but here are some photos of the place (gorgeous photos), send me the money and I will send you the key"…  they always give way too much detail about who they are and what they do to make the lie believable…
You can try colocations but you have to find it through facebook groups or leboncoin. So again be careful !
If you are to want to rent a space on your own, you have to find French Guarantor whose wage is at least 3 times more than your rent which is quite hard ! Alternatively you can pay whole rent for the period you are renting out the space but not all real estate agencies offer that option. Paris Attitude offers this option but you pay way higher agency fees than usual !
EXPENSES
Unfortunately, Paris is very expensive… even more expensive than my previous home London. In France there is a law forbidding to sell anything less than its cost. So you cant find very much reduced prices, or ultra cheap stores like primark around. Even street markets are pricey. If you consider eating out, be prepared to pay at least 10 euros in the cheapest restaurant (for not so good, touristy meal) Once I asked a tour guide cheap (under 15 euro) restaurant that actual Parisians go.. she said "There is no such place" 🙂
Only thing cheaper than everywhere else is wine and some cheeses…. Your best bet is to enjoy these combination 😀
TRANSPORTATION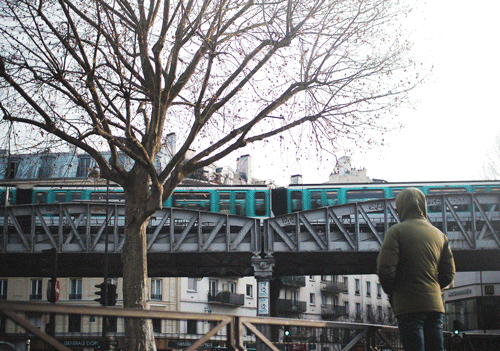 Paris is the place for walkers ! If you are staying in centre, you can reach most places by half an hour walk. But is you don't want to walk, it is best to buy tickets in bulk for cheaper prices.  You can use them both in bus and metro. Taking the bus is so much fun and kind of like sightseeing activity but if you decide to hop on a bus, make sure to avoid rush hour !
Metro is also very convenient but but but at nighttime it is not safe at all. After 11 o'clock, it is smart decision to say no thank you !
BONUS: WAYS TO FEEL LESS LONELY
Lets face it when you move to a place, first weeks are usually very lonely time… This effect doubles in Paris because streets, cafes and restaurant filled with people chatting and enjoying each others company.
It doesn't have to be this way because i think Paris is home to most active expat communities , international meetups as well. There are many different websites but two most prominent ones are Internations and Meetup . Every week they organize very cool events and people are very friendly as well.