5 AMAZING SEAFRONT MANSIONS OF THE BOSPHORUS - ISTANBUL
Bosphorus is one of the most important places in the world because it is a place where only a very narrow sea line separates two major continents... Consequently, private mansions built around Bosporus sea shore displays worlds finest architecture and is home to worlds richest people.
Here are my favorite buildings where Asia and Europe meets ...
AFIF AHMED PASHA MANSION
Built in 1910, this mansion was designed by famous architect Alexandre Vallaury who is known for combining eastern and western traditions. He also designed famous buildings such as Pera Palace Hotel and Ottoman Bank. This mansion is not famous for its owners but it is famous for its guests. For example, it is known that Agatha Christie stayed at this mansion when she was writing her book "Murder on Orient Express".
HIDİVA MANSION
"In 1902, this mansion was built by Italian Architect Raimondo D'Aronco to Hıdiv Abbas Pasha to serve as summerhouse for his mother. Directly located at the seaside of Bebek shore, this building is fine example of Art Nouveau trend. It was granted to Arab Republic of Egypt after Republic of Turkey was established. It still serves as Egyptian Embassy in Istanbul.
HUBER MANSION
This Art Nouveau mansion takes its name from rich Merchant Auguste Huber who used to sell guns to Ottoman Empire. It has its own coppice forest as big as 64 thousand square meters. Now it is used as Presidential Palace. According to some rumors this mansion was given as hush Money to maid of French Empress Eugénie who witnessed Empress and Ottoman Sultan Abdulaziz having a secret affair.
HEKIMBASI SALIH EFENDI MANSION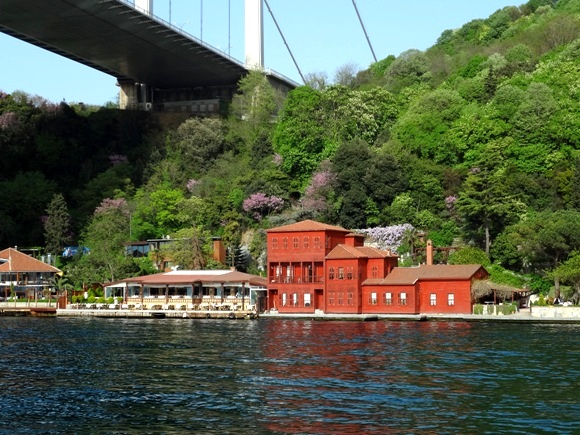 Hekimbaşı Salih Efendi was one of the first graduates of first medical school of Ottoman Empire. He was private doctor to 3 Ottoman Sultans and head inspector of all medical institutions. When his fame went ahead of himself he became so rich enough to purchase this mansion and gave it his name. It was restored in 1978 successfully and some of original furnishings are still on display. Today it is very popular venue for weddings and one of the most photographed mansions of Bosporus.
SNAKE MANSION
Ottoman Statesman Mustafa Efendi constructed this mansion during the reign of Abdülhamid I (1774-1789) or Selim III (1789-1808). It takes its name from a gossip which was spread during the reign of Sultan Mahmut II. When Sultan Mahmut II was passing through this mansion with his royal boat, he saw this house and decided to own it no matter what. But the owner of the mansion spread a false rumor that the mansion is filled with snakes and deterred Sultan from buying the mansion.