TASTE OF PARIS: LE MARAIS AREA
This winter I attended the ultimate food tour in Paris "Taste of Paris: Le Marais ". It was organized by Paris by Mouth food blog which shook up the food scene in Paris and earned quite a reputation over past years. Let me tell you from the beginning, despite freezing weather, I had one of the most amazing and tasty days of my life....
I lived in Paris for more than 8 months. 3 months of these time, I worked at a company which was located at le Marais. Yet, thanks to this tour, I discovered I knew nothing about this side of the neighborhood... For example; I discovered that my Office was 2 minutes walk away from award winning "Boulangerie" of Paris… and also 5 minutes away from one of the best chocolatier in the world…. :P
Anyway,.. Better late than never !
We started the tour with this famous Boulangerie "Tout Autour du Pain". This place was placed three times among the top ten winners of the Best Baguette in Paris competition. They also won many awards with their delicious butter croissants. Man behind this genius is famous baker Benjamin Turquier ( I mention names because, cooks and bakers are real celebrities in France :P)
From here we tasted: croissants, vannetais (white chocolate bread), chouquettes (sweet puffs covered with pearl sugar), and baguette de tradition. Its sister store is located at 134 rue de Turenne, 75003.
Address: 59 rue de Saintonge, 75003.
Jacques Genin
Then we were headed to the most busy shop in Paris; Jacques Genin Chocolate Shop. When we entered this shop, I got the impression that it is a jewelry shop; everything was so perfectly organized and there were freshly cut flowers everywhere…But no, it is a chocolate shop! The most famous and delicious chocolatier in Paris…
In this shop; from family of chocolates we tasted coffee and cardamom ganache in dark chocolate and mint ganache in dark chocolate. They are all divine, none of them tastes very sweet and flavours are very rich! Then we tasted pates de fruit (fruit jelly). I usually don't like this kind of treats but I liked it very much! But this one was so different, it didn't have gummy texture that I don't like. It is made of fruit by %80 and It definitely tastes like fruit bomb in your mouth!
Without hesitation I bought a mix pack for my family and it became the most popular gift ever!
Address: 133 rue de Turenne, 75003.
Le marché couvert des Enfants Rouges
At least this one, I knew... ahaha! This place was built as an orphanage in 1615. Here, children were always dressed in red; the color of charity. In 2000, it was reopened again as a food market and they wanted to honour the memory by naming the establishment "Le marché couvert des Enfants Rouges".
Right now it is favourite of both locals and tourists to buy grocery, cheese or eat really good food; Italian, Japanese, Lebanese etc.
Address: 39 rue de Bretagne, 75003
We visited this marché for following shop;
We were here to pick cheeses to accompany wines we will taste at next stop. After spending half an hour at fromagerie (cheese shop), I witnessed once again how much French do take their cheese seriously. Here is some of interesting facts to prove it:
There are 350 types of cheese produced in France but the most popular ones are Brie, Camembert, goat cheese, blue and Comté.
"A meal without cheese is like a day without sunshine," is very common saying in French
The average French person eats an 26 kg of cheese per year
Saying that it stinks is a big insult
Some types of French Cheese is banned in USA due to bacteria extreme fermentation like Brie de Meaux, Roquefort and
I also learned that they have to display what kind of milk that its made of n front of the cheese and its kilo price as well.
If you are like me and cant possibly decide what kind of cheeses go together or how to make nice cheese platter, here are some menus the cheese shop created:
I will talk about all the cheeses we tasted in following section "La cave de Turenne" because , of course, we tasted cheese with wine :)
Address: 39 rue de Bretagne, 75003
Maison Ramella
This place is located almost opposite of Jounnault Cheese Shop. Variety of food is just beyond my imagination inside this shop. Once you get in, you feel immediately lost if you don't know what you are looking for. So chatting with the shop owner, testing your French language skills is mandatory :)
But thankfully we had our lovely guide Melanie to help us ! From here we tasted: jambon aux herbes (herbed ham), rosette de Lyon, terrine de lapin et fines herbes (rabbit terrine with fine herbs), and duck rillettes (duck spread).
Address: 39 rue de Bretagne, 75003
This is no ordinary pastry shop! From the moment you set a foot to Pierre Hermé's newly opened shop in Le Marais, you get this feeling! It is no coincidence that Mr. Pierre Hermé is called " Picasso of pastry" because he revolutionized that classic French pastry and introduced lots of new and unpredictable flavors. And you can feel this uniqueness immediately!
Before opening these pastry chain, Mr. Pierre Hermé actually worked at the most famous macaroon shop in the world "Laduree" and introduced many new flavours. But after he opened his own shop and became competitor to his previous boss in very short time! In my opinion, as matter of taste Pierre Hermé wins and in matter of style and tea shop ambiance Laduree is clear winner as well :)
Anyway, In this particular shop, I stepped away from safe choices and tasted gingerbread macaron. It way good but I prefer classic tastes like rose or salted caramel…
Address: 4 rue de Bretagne, 75003
Last stop of our little tour was this organic wine shop. Here first of all we were introduced to concept of organic wine and we had following course of wine and cheeses...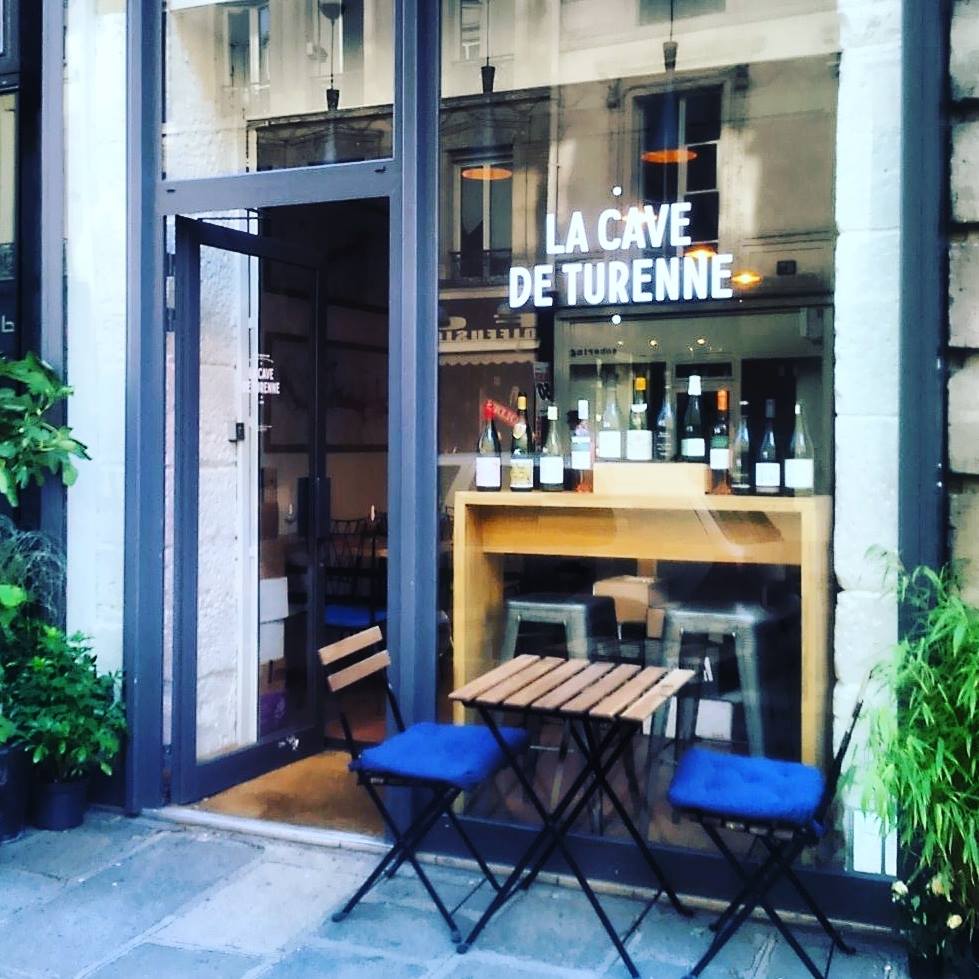 First course of Wine and Cheeses:
Sainte-Maure de Touraine AOP (goat, Loire Valley, aged 10-28 days) - A cindered or ash-covered chèvre that's shaped like a long log. After one day, a long straw is inserted in order to hold the fragile cheese together and ventilate its interior. Tastes lemony fresh, salty, with a hint of walnut; doesn't become strong and "goaty" until it is much older and deeply wrinkled.
Chaource AOP (cow, Champagne/Bourgogne, aged 2-8 weeks) - This double cream cheese has a creamy texture and slightly sour or acidic nose. It becomes sharper and saltier as it ages.
Wine: Vin de France "Le P'tit Blanc du Tue-Boeuf" from Le Clos de Tue-Boeuf (Sauvignon Blanc from the Loire Valley)
Second course of Wine and Cheeses:
Tomme de Brebis Corse (La Corçoise) (sheep, Corsica, aged 3 months) - This cheese is similar in style to Ossau-Iraty but perhaps more peppery and with flavors of the native aromatic scrub or "maquis". This cheese often has a slight aroma of smoke and a dry texture.
Epoisses AOP (cow, Burgundy, aged 4-6 weeks) - The recipe for this cheese was originally based on Maroilles, the first washed rind cheese created around 960 AD. Monks were forbidden meat on fast days, and with more than 100 of these per year, not to mention compulsory fish on Fridays, cheese was an essential part of their diet. Washed with Marc de Bourgogne, a brandy made from pressed grapes (like Grappa), the rind has a terracotta color and is sticky. The aroma is reminiscent of meat (especially bacon), eggs, and smelly socks. The flavor is salty and rich with a long finish. When perfectly aged, the texture is runny and Epoisses can be eaten with a spoon.
Carles Roquefort AOP (sheep, Midi-Pyrénées, usually aged 3 months but can go up to 10 months) - This is a very old cheese, dating from before the Roman conquest of Gaul (2nd century BC). Ripened for at least three months in the Cambalou caves below Roquefort-sur-Soulzon. These natural caves are filled with Penicillium roqueforti. Made from sheep's milk from a defined region around the village. Some 3.3 million cheeses are cured every year in these caves. Round rye and wheat loaves are specially baked and left where the airflow is strong. After 6-8 weeks, the crust is discarded and the inside is dried. Cheeses after eight days of production are taken to the caves and pierced with needles. Carbon dioxide caused by fermentation in the pate escapes and the spore-laden air is introduced. Protected since 1411 when Charles the VI signed a charter granting the people of Roquefort-sur-Soulzon the right to make it, and in 1925 it was the first cheese to be granted AOC status. Carles is generally appreciated as the top producer based on the criteria of balance (no over-salting) and complex raw milk flavor, bite without harshness, and soft buttery texture.
Charcuterie: Terrine de lapin et fines herbes (rabbit terrine with fine herbs), and duck rillettes (duck spread)
Wine: Vin de Pays d'Oc 2016 from the Domaine de Clovallon (Pinot Noir from the Languedoc Roussillon)
Address: 80 rue de Turenne, 75003. From here we tasted the wines listed below.